An experienced veteran in the sport of gymnastics

---
Okay, so this is a direct copy from Lauren's Corina and Claudia page, but does it matter? I know you'll enjoy it any way. Oh, and the background music is Claudia's new(?) floor exercise music, Irish Washer Woman. There is also the old FX music, Lemon Tree in case you want to hear it.
---

An analysis of Claudia's name!

Claudia (pronounced Claw-OO-de-ah) is a very sweet and wonderful person.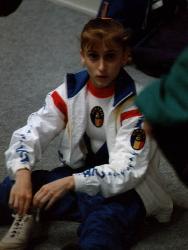 Claudia Maria Presacan ("Claudita") was born in Sibiu, Romania, on December 28, 1979, to Adrain, a vet technician and Eugina, a housewife. She has a brother Claudiu 15, a brother Cristian, 11, and a sister Alina, 8.

Claudia began gymnastics when she was sven, and she idolizes Nadia Comaneci.

Claudia enjoys reading and listening to music. She also likes action and detective movies. Her favorite school subject is English. Her favorite city is Sabae, Japan. Her favorite event is beam.

Claudia is four feet, ten inches tall. She wishes the American people good health and success.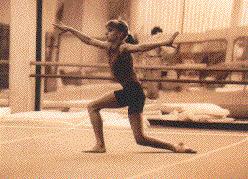 Claudia is quickly becoming one of the most popular and respected gymnasts in Romania. The head coach, Octavian Belu said her evolutions were decisive, she is a key-factor on the team, and she is always in control! He also named her the little soldier of the team, because she is always there when they need her! So I am very proud to say that a couple of years ago, I saw talent and determination in the eyes of a girl who is quickly becoming one of the best gymnasts in the world.

A broken hand kept her from the Olympics. Rumors surfaced about Claudia's retirement, but Claudia persevered, and has become a beautiful spot in a sport that has many dark times. At 17, we all hope that Claudia continues to compete until 2000, where she will hopefully receive her reward for her dedication.

Quotes:

"I was honored to take part in the festivity organized in Milo's honor. She was such a remarkable gymnast, but also a great friend." To know what festivity she's talking about, click here!

---
I discovered a really interesting thing about Claudia, does any one of you thought that Claudia's last name is spelled wrong here? Well it's not, according to Alex(She spelled with an "a" too when she sign her autograph), our Romania News supplier, Claudia herself said it's supposed to be spelled P-R-E-S-A-C-A-N instead of P-R-E-S-E-C-A-N. Therefore, if you see someone spell Claudia's last name PRESECAN, tell them they are WRONG!
---
Claudia's Autograph
---
As Presacan worked really hard in the team Final of the World Championships, Belu named her the "little soldier of the team!"
---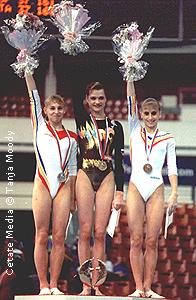 After the '98 European Championship, in which Claudia finished 3rd in the AA, I begin to like this gymnast even more. Not because of her result, it's just I gained more respect for her, somehow. I just wish that her career will be long enough to show the world what she is about.
---
All the following are links to Presacan Plaza- another wonderful site by Lauren, I love it!

Presacan's Results!

Prasacan's Routines!

Images of Presacan!

---
---