Yes, Gina, We'll Miss You!
Written by Brian Davisson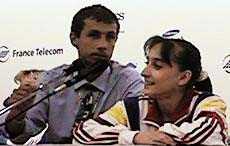 Gina Announcing her retirement at the World Championship
After the completion of the 1997 World Championships in Lausanne, Switzerland, Gina decided to end her illustrious gymnastics career. Over the course of eight years, stretching back to her first competition in 1989, and ending in a Europe-Asia meet directly following the World Championships, Gina has never ceased to amaze all fans of gymnastics with her remarkable skill and consistency. After the completion of the World Championships in Lausanne, Gina's three first-place finishes gave her a total of nine gold medals in World Championship competition, moving her into a tie with Larissa Latyinia for the most gold medals won at the World Championships. With well over fifteen first-place all-around finishes and over thirty first-place finishes on individual apparatus, she finishes her career as one of the most successful competitors in the history of gymnastics. Few gymnasts have managed to retain consistency in competitions over their careers like Gina has done, and with her retirement, the sport loses one of the greatest athletes ever. It is certain that few gymnasts will ever reach the level of greatness that Gina achieved in every competition in which she competed, but every fan over the entire world will always remember the eight wonderfully successful years she gave to gymnastics.
(Note: Brain Davisson is the web page designer of the one and only web page that's totally dedicated to Gina which no longer exist.)